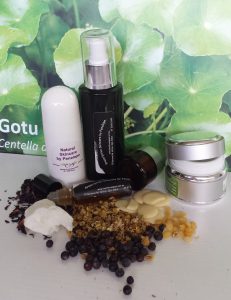 2017 Schedule
Saturday 25th November 2017.
ALL WORKSHOPS ARE FULL DAY: 8.30AM TO 4PM.
Learn How To Easily Make Your Own Skin Care:
Quality, Antioxidant Nourishing Skin Care Products without chemical and synthetic ingredients.
Save money on your skin care regime.
Be in control of every Ingredient in your product.
Select your own Active Ingredients.
Learn how to adapt recipes for individual use.
Make your own products and gifts for family and friends -Better than any store bought product and they will love them!
Workshop Includes:
Full size range of Products that you will make yourself and take home to use immediately! Easy to do and a Fun day!
Exclusive Manual / Workbook and Recipes to use at home.
Learn to adapt and personalise recipes and recreate your favourite branded products at a fraction of the cost
Which high end ingredients to use and at what percentages.
Learn how to make safe and stable products and correct your product if things go wrong.
Learn the therepeutic properties of all the ingredients to choose from, including herbs, oils, butters, waxes, Essential Oils and much more.
Foundations and creating Oil & Gel Serums.
Foundations and creating Cream and Gel based Moisturisers for Face and Body.
Serums and Gels examples: Eye Gel, Shave gel, Nail Gels
Body Butter / Healing Body Creams
Cleansers, Masks & Scrubs for Face & Body
Hand wash and Gels………and much more.
Cost: $330.00 (including GST) PAYABLE with registration.
Includes: Tuition, Exclusive Manual, All natural Ingredients & Packaging supplied.
Registration Form